Tired of your hum drum gym classes?
Looking for an energizing workout that feels like a dance party on a bike?
Need a new addiction?
If you answered yes to any or all of these questions then it's time for you to try out Velo City Spin Studio!
Velo-City is located just off of Boylston Street (near Hynes Convention Center) at 45 Fairfield Street.
While some may be weirded out by winding down a few staircases to a basement studio, Velo-City covered the walls with sweet street graffiti.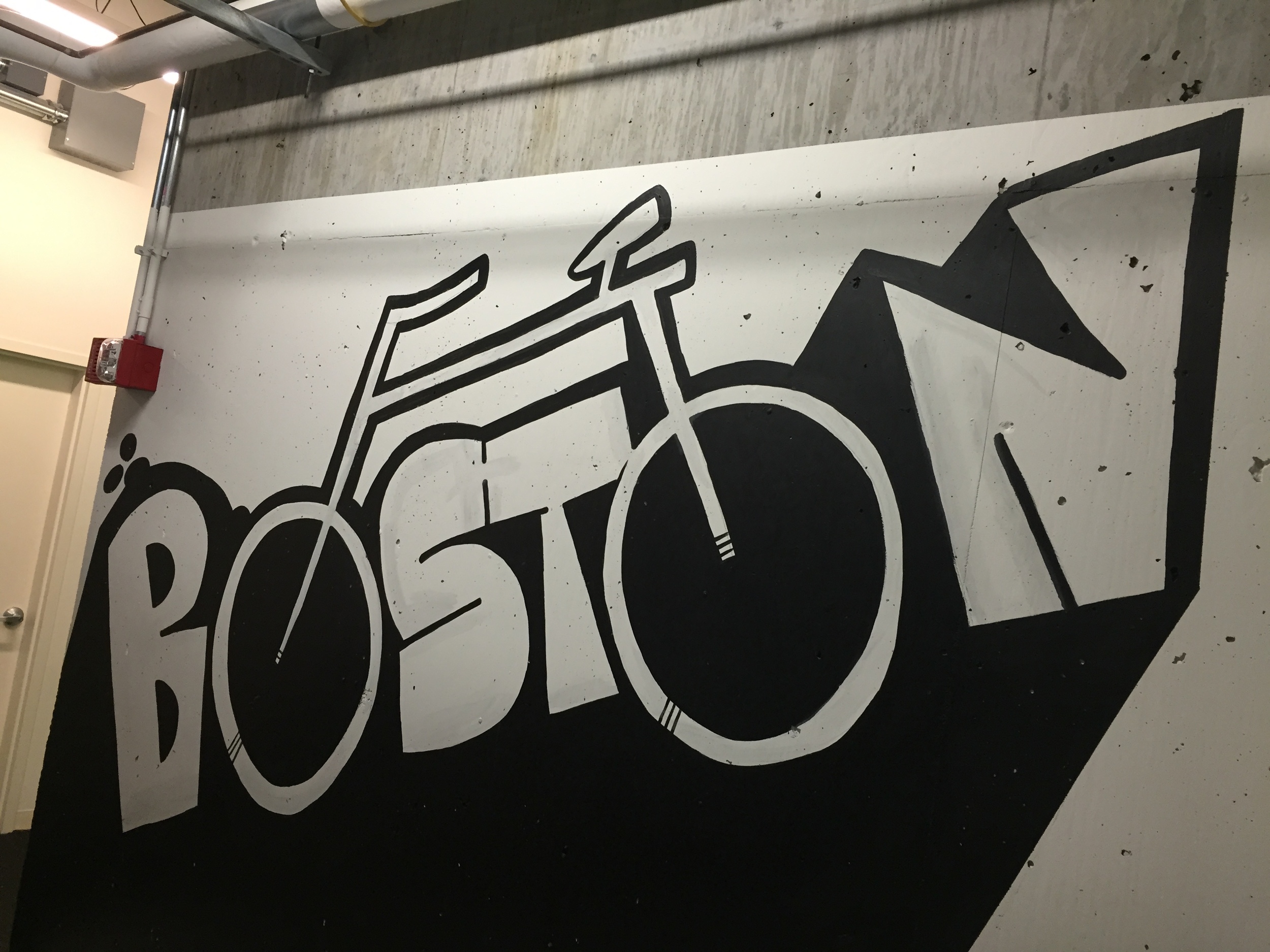 Don't worry guys - they made sure I was going the right way!
Oh bikes this way? Thanks!
Here's how Velo-City describes their experience:
Vélo-city isn't just about sitting on a bike and staring at the wall. Our high energy, music driven, full body indoor cycling workouts are so much more than 45 minutes on a stationary bike. Bring your friends, escape from reality, work at your own pace, and have actual fun in the process! When it's all over, your muscles will be burning, your heart will be pounding, and your stresses will have been reduced to a puddle of sweat on the floor. You may even go grab a beer with your instructor and other fellow riders afterwards.
The waiting area offers cubbies for your stuff (no lockers, but a staff member is always at the front desk), a couple of benches, a cooler with water for purchase and free beer (yes you read that right!) and racks of free cycling shoes to use for the class.
Did we all pass by the Free Beer memo?!?!?! Just pointing that out again. :P
Velo City offers themed rides as well as 45 or 50 min classes. I was taking part in one of Matt J's Sunday rides thanks to a complimentary invite from Velo City.
(Note: While I did receive a complimentary ride, all thoughts are my own! Ain't nobody got time for lyin'!)
I wandered into the studio and it was packed. I spotted a bike in the corner and quickly grabbed it. I was taking the class the day after a long run so I had no idea how my legs would handle the class.
I waited for co-owner Tom to come over and help me properly set up my bike. It was great to see one of the owners in the studio helping folks set up their bikes and answering any questions that came up.
Matt J set the tone from the get go! While I expected my legs to be mush the morning after a long run, I was wrong! Matt J was high energy and extremely motivating. The lights were dimmed so I wasn't distracted at all by the other folks in the class. I was focusing on my ride and only competing with myself. Matt J did a great job of giving detailed and clear instructions, while keeping the tone happy and inspiring. There are some studios that drop difficult choreography on you - not Velo-City! This ride was challenging, but straightforward and easy to modify if needed.
I left the class dripping and with a smile from ear to ear... and I didn't want it to end! Plus his musical selection was on point! We all know how much music selection plays into a good cycling experience.
Overall I was highly impressed by the management behind the studio, the reception from staff working behind the counter, the kind gestures and above all a great workout that left me wanting to come back.
Thank you Velo-City for an awesome Sunday morning. Now when can I get my butt back in that saddle?

Will you join me?