How the heck did we get to the final meeting of 2018 already? With 2018 coming to a close that means we are RAPIDLY approaching our 1-year anniversary of arriving in the Netherlands (14 January). I want to wait to do a bigger post about how our first year living in Europe and doing WW has gone when we hit the 1-year of us joining (which is later in January).
Right now I want to focus on how we are ending 2018 and a quick check on what I want to achieve in 2019.
So when we last met, I had tracked the last 5 days of the week and saw my best weight-loss at the scale in ages. One can only guess what my focus on this past week would be… you guessed it?
WATER INTAKE!
Nahhhh kidding… it's tracking. Okay actually it is still water, but for the point I was trying to make it was tracking.
Even with Christmas during the week, I wanted to track everything I ate or drank over the week to see how that went. Again it would be judgement free because I knew I was going to indulge, but I wanted to make sure I indulged on things that were actually worth it to me!
Christmas was Tuesday and the wife had ordered a turkey (freakin pricey, but she really wanted it) so she heated that up successfully in our combi-microwave. We don't have an actual oven. I want to applaud her for making an amazing dinner and some delicious mashed potatoes (my favorite).
We were able to control our environment and didn't bring in the really tempting foods into the house, but made sure we didn't feel deprived.
We got a 2nd Christmas for the first time! 26 December is known as 2nd Christmas in the Netherlands and more commonly known as Boxing Day in other countries. We opted to take this day (since we both had it off) to check out the Christmas decorations in the city center… oh and an afternoon drink! ;)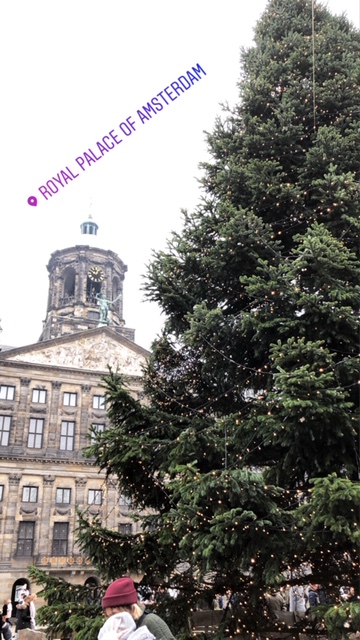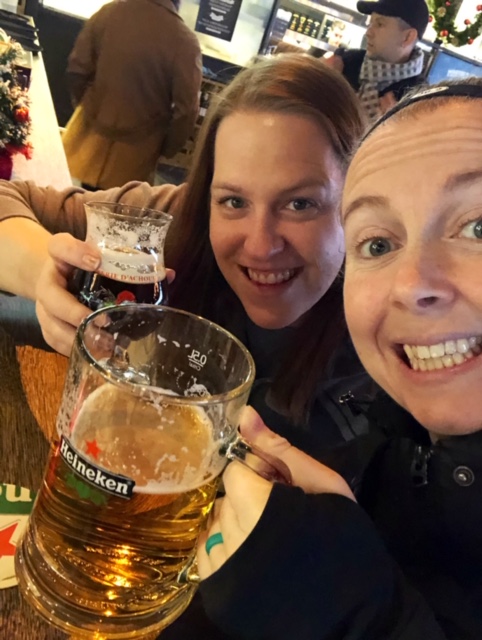 It was an awesome day and I would say more fun than Christmas. I think I can get used to having a 2nd Christmas. :)
Despite going waayyy over on points for the week, I was really proud in my choices. I know this was a better Christmas weeks than in the past since we didn't have to go to any Christmas parties and I didn't waste points on anything I didn't want. I also racked up over 100 fitpoints doing activities I love AND it wasn't as punishment for the food choices I made, but because I love moving my body!
I will say thanks to my fitpoints I only ended up -78 for the week. I think those 78pts were all booze and again totally worth it. ;)
Let's see how the points played out over the week:
Saturday: 75 pts eaten (had to guess as we ate out that night); 13 fitpoints earned
Sunday: 52 pts eaten; 17 fitpoints earned
Monday: 33 pts eaten; 18 fitpoints earned
Tuesday: 82 pts eaten; 13 fitpoints earned
Wednesday: 54 pts eaten; 15 fitpoints earned
Thursday: 38 pts eaten; 15 fitpoints earned
Friday: 27 pts eaten; 18 fitpoints earned
I only had 1 day where I earned a blue dot (within 7pts of my daily target)., but I do have 5 pts a day for my fuel for my workout (3 for pedialyte + 2 for WW protein bar) which would take a couple days closer to a blue dot.
I did keep all of my Simple Habits intact. I really think the extra activity and adding in some strength work is helping me see some better results on the scale AND helping me feel better overall physically.
We made a pact to go to our meeting no matter what the scale would say because the support of that room has really been keeping us going. Unfortunately almost everyone was out of town for the holiday, but we still stayed for the meeting.
Before stepping on the scale I listed my 3 positives for the week:
1) Tracked every day (even to the tune of -78 pts for the week)
2) Enjoyed our Christmas and didn't feel deprived at all
3) Kept my streaks alive
And you know what… hit my lowest weight since moving to Amsterdam and probably the last 18 months!!!
DOWN 3.3 lbs/1,5 kg!!!
Total Lost: 64.6 (47 with WW)
Current weight: 170.4 (77,3 kg)
Heaviest (recorded) weight: 235
Weight Watchers Start weight: 217.4
Goal weight: 155
Lowest weight: 150.2
Wicked happy to be ending 2018 with six weeks of losses on the scale, but more importantly a better mindset for 2019!!
I of course want to return back to goal (15 lbs/7kg to go), but I want to get back to the place mentally where I felt strong and confident. Looking back at 2018, I lost that almost from Day 1 of the year. Between work and relocating, my mental strength took the largest hit. Refocusing on me the past 2 months has been a huge step and I can tell how much it pays off. I NEED to keep this going in 2019.
I want to focus on less "all or nothing" thinking in 2019 when it comes to food and fitness. I also need to stop being a workaholic before my body breaks down from working 60-80 hours every week. Plus I miss out on having a social life and making friends when all I do is work. While I am striving to be back at goal for the Paris Marathon (April) or my return trip to Boston (May), I really want to be back to the self-confident and self-loving me by then. I know with a healthy mind, the scale follows. Less pressure on the number (which has been my focus the past couple months) and more on living…
As I said I will share more of a retrospective on relocating and our 1-year of Dutch WW in January, but for now I am happy with the positive trajectory of the past couple months and especially the last 2 weeks when I was - shocker - tracking!! :P
Happy New Year to All!! Thanks again for being part of this journey and for letting me be a part of yours…